1957 Transcontinental
Owner Jack White. Location Connecticut. Information an photos by Jack White
I purchased the car in Oct. 1984 from the daughter of the family that bought it new. The family purchased it from a long since defunct dealer that used to be in my home town, and it had lived all of its life about 15 miles away. It is body number 1135 of the 1894 that were built.
It is Charcoal Gray with a Silver Beige spear and a grey and white leather interior. It was equipped with the usual options,PS, PB along with power windows and a power antenna. I have since added the spinner hubcaps, electric wipers, illuminated front fender ornaments, outside rear view mirrors, cruise control and non factory air conditioning. It had 48k when I got it, and it now reads about 87.
The only mechanical work done has been a valve job and a resealing of the transmission. It had a burnt intake valve when I got it, and the front seal in the trans gave up in '86. As far as restoration work is concerned, I repaired a small rust hole in each front fender, and repainted it in the original acrylic lacquer paint. The leather on the seats turned out to be just to brittle to save, as it started tearing away at the seams. It actually was in very good overall condition, considering it lived its entire life in Connecticut. I had the seats redone in the correct pattern and colors, but in Naugahyde instead of leather. As for the rest of the car, it is 99% original and completely stock. The only mechanical modification had been to replace the original 3:23 rear end gears with a more highway friendly 2:69. We have had it at all of the POCI conventions since 89, except for 90, 93, 97 and 06, and are planning to go to Tulsa this year.
Jack & Jill White's Transcontinental at 2005 POCI National convention.
(Photo from "Safari News" Summer 2005)
Click on photos below for high resolution view in a new window.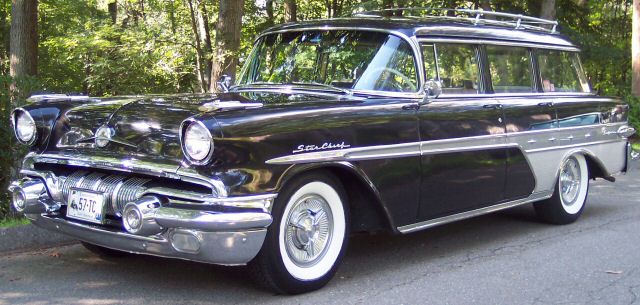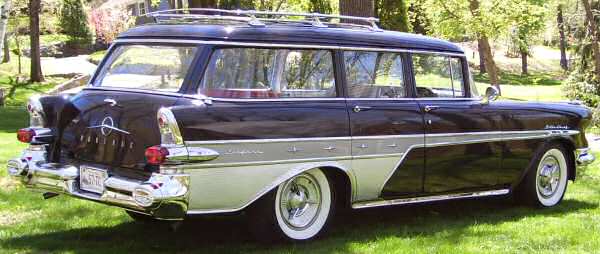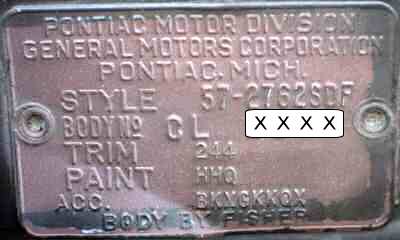 STYLE 57-2762SDF = 1957 - 4 dr. Custom Safari (the "Transcontinental")
BODY NO CL xxxx
CL = Cleveland Fisher Body Plant where the body was manufactured

xxxx (Actual production number concealed) = Body build number at the Cleveland Fisher Body plant
TRIM 244 = Silver Beige & Ivory Leather Interior
PAINT HHQ = Charcoal Grey Body, Charcoal Grey Roof and Silver Beige Accent
ACC. BKXGKKQX = Accessory Code
B = Underseat Heater and Defroster

KX = Latex Foam Front Seat Cushion

G = Windshield Washer

KK = Latex Foam Rear Seat Cushion (apparently not to common, so I'm told)

QX = Power Windows

VIN Number = F757Hxxxx
F = Framingtam Mass. Pontiac assembly plant

7 = Model 27 (short wheelbase model)

57 = 1957 Model Year

H = Hydramatic Transmission

xxxx

(Actual production number concealed) = Sequential Production Number, indicating car was the xxxx Hydramatic equipped Model 27 built at this plant, with build date in approximately mid April, 1957.
See Identification Tags for details on how to decode the Fisher Body Data tag and the VIN.